Amazing Advantages of Learning Online, on the Phone or Skype Sessions
Learning has never been easier
Our comprehensive  Communication, Etiquette, Soft-Skills,  Foreign Language Courses, Voice-over Training & Coaching, these in-depth and interactive sessions have great advantage with clear and effective learning experience, from beginner to advance. we also have customized  courses for copy-writing, content writing, speech writing, script writing  and technical writing.  DEneeraj Multi- lingual services® (DMS)  Online, on the Phone or Skype Sessions and courses are  Flexible, Convenient, Comfortable, Scalable, Self-Paced, Regulated Learning, Eco-Friendly & Easy On the Pocket
Learn the language of your choice in the quickest, coolest and most fun way
DEneeraj Multi- lingual services® (DMS) works with expats, kids, men, women, top MNC directors, senior civil servants, politicians, academics, celebrities and working individuals  who wish to learn and  enrich from our complete course customization in Online, on the Phone or Skype Sessions with your very own instructor.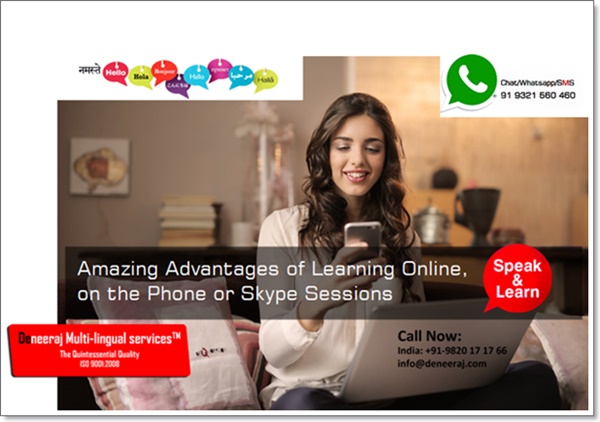 Benefits of our Learning Sessions I Online, Skype, phone
Easy and convenient course mentoring
Courses available Anytime, Anywhere
Option to work on your own personal materials during a session
You have eight to ten online or over the phone sessions during the course, you can select the intensity and methodology of your study by directing the areas you wish to focus on.  Our Online, on the Phone or Skype Sessions offer you the opportunity to have individual lessons with a personal coach no matter where you are in the world. All you have to do is book your session, inform us of your preferred timing answer the phone, making this a highly flexible, convenient and valuable option for super busy professionals. An online or over the phone courses allow you to schedule or cancel your sessions at your convenience.
Available in more than 30 languages, US/UK Accent, Communication, Etiquettes, Soft-Skills etc
English
French
Spanish
Italian
Portuguese
Russian
Turkish
Indonesian
Chinese
Romanian
Hebrew
German
Irish
Greek
Latin
Arabic
Hindi
Japanese……
workshops, courses & Sessions  By Skype, Online, On the Phone,E-learning, webinar, & In Person only in selected cities
Face-To-Face Sessions
Yes,  we are also having One-to-One Courses and session but only in selected cities, but we encourage serious learners to explore newer ways of learning. Our  on the Phone or Skype Sessions  are useful in that it's less time consuming and convenient, it increases  confidence because it  technically works on speaking, and you have the internet or phone  at your fingertips, that's all you ever need. Start Learning Today
Become a Better communicator:   connect today and join US/UK Accent, Communication, Etiquette, Soft-Skills & Foreign Language Courses online Courses, Classes, Training, and Tutorials on 1-to-1.
GET STARTED!
Are you ready to get started? Contact us at +91- 805 244 2444 or by sending an email at info@deneeraj.com. We will contact you within 24 hours with more information.
By DEneeraj Multi- lingual services®