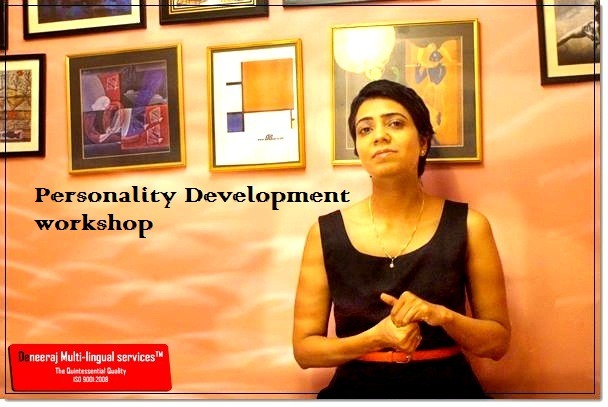 Personality Development Courses
Personality Development Courses & Personality Development Workshops
In today's world, pleasing personality & Public Speaking skills are extremely significant, it has become imperative to sharpen your Public Speaking , and more importantly, self-confidence . DEneeraj Multi- lingual services™ an astonishing approach to Personality Development Courses & Personality Development Workshops in India's others major cities like Delhi, Lucknow, Pune, Bangalore, Kota, Chennai and Kolkata. We have also online courses and webinars.
Personality Development Programs 1-Day Seminar, workshops, Training & Courses
The Most sought-after skills you must learn

NOW

:
Communication skills
Presentation skills & Public Speaking
Business Etiquette, Business Protocol & Soft Skills Training
Conflict resolution
Writing & Copywriting
Leadership skills
Etiquette and Manners
Photography Courses
Intranet skills
Our workshops start with many in-house evaluation methods, and then we built on where you are and cover sophisticated techniques like analytical skills. We encourage you to give a speech at the end of the workshops. A video recording of that speech is given to you for home review.
DEneeraj Multi- lingual services™ workshops & program, you and your organization expand sophisticated skills in business communication, our one on one public speaking and presentations sessions are clubbed with other requisite soft-skills will make you superman in your workplace.
Our Executive Presentation sessions, courses and seminars at different locations will help you develop and ameliorate a captivating and engaging Public Speaking style, leading to amazing outputs for you and your organization.
One -day seminar/workshop on Personality Development & communication skills in the workplace
Get in touch with us for any query
By Deneeraj Multi-Lingual Services