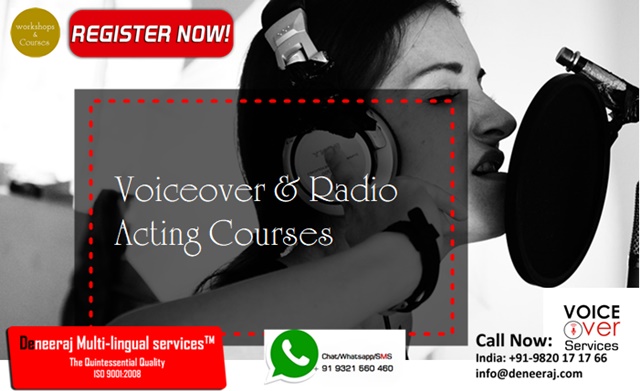 Voice Over & Dubbing Training
Voice over Workshops, Voice over Training Online & Face to Face Courses
Voice has a major role in deciding the impact any content has on its audience. This is why choosing the voice for the purpose of voice over and dubbing is more important than you think it to be. Do a successful voice over artist can only with the proper understanding of both the languages along with modulation, Intonation and pitch.
Voice over & Dubbing Training in Mumbai, Delhi, Lucknow, India.
If you are making your mind to go for Voice over & Dubbing Training. DEneeraj Multi- lingual services® (DMS)  do  Voice Training either in Lucknow, Mumbai, Online and Face to Face in all major cities of India. We will put you together with one of our extremely experienced Voice-over experts who will carry out a one to one voice training session personalized specifically to you, your voice, modulation, Accent, Diction, style and your own skills.
Voice Coaching
First things first, you need to ensure that the Voice Coaching  in Mumbai imparted by Team DEneeraj Multi- lingual services® (DMS), must be of high quality so that you will learn everything from lip-sync, narration, free commentary successfully captivate with your voice and enhance its potential.
Why to choose DEneeraj Multi- lingual services® (DMS) voice over Training?
The quality of your Voice can be developed with the help of professionals that have years of experience in this field. DEneeraj Multi- lingual services® (DMS) provides to the need of clients looking for such Voice over & Dubbing Training and many more.  We have been successful trained and deliver our services in a trustworthy manner and that too at a competitive price. DEneeraj Multi- lingual services® (DMS)  will teach you how to get the best from your voice and ensure you will gain all vital aspects of performing vocally, so that people want to listen to you, and your message comes across well.
Voice Training Session Includes
Your typical Voice Training session includes us listening to you read well-written material, inspiring you to read naturally, wisely and in an appealing way for the audience. We will help you optimize your voice presence, this would help you to master the necessary   confidence to realize your own vocal capacity and  to overcome your flaws by gaining  the skills to take  confident step in your voice-over career.
Places are limited
BOOK NOW

to avoid disappointment.

By DEneeraj Multi-lingual Services ® (DMS)