Learn Anytime, Anywhere- Online, On the Phone & In Person
Ever since the advent of the digital medium in various forms, be it E-learning or distance learning, training through the online medium has resulted in massive cost reduction. Students do not have to be called to learning centers any longer. In the case of a multinational company or a startup, though costs are kept low, efficiencies are made to rise higher.  DEneeraj Multi- lingual services® (DMS) Accents, Communication, Etiquette, Foreign Languages, Soft-Skills and Public Speaking Online & On the Phone sessions at Mumbai, Delhi, Pune, Bangalore, Noida, Lucknow, India. are easily  accessible anytime, anywhere.  All our Online, On the Phone & In Person Trainers  are available to assist you throughout the training  you  could  even contact as  frequently as possible  contacting your trainer.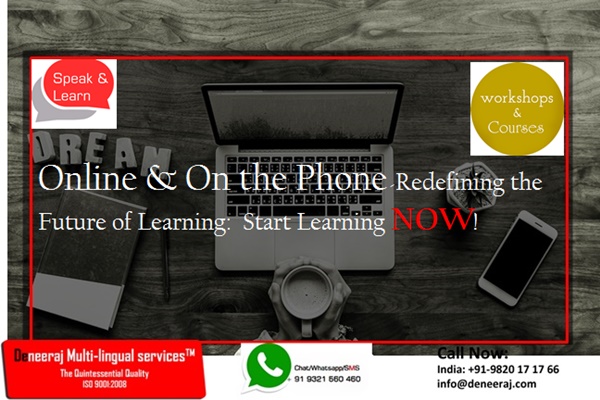 The Most sought-after skills you must learn NOW:
Communication skills
Presentation skills & Public Speaking
Voice Over & Dubbing Training
Business Etiquette, Business Protocol & Soft Skills Training
Conflict resolution
Writing & Copywriting
Leadership skills
Etiquette and Manners
Personality Development Courses
Photography Courses
Intranet skills
SEO & SMO
Emotional Intelligence.
Psychology and Human Behavior
Time management.
Learn Online and on Your Mobile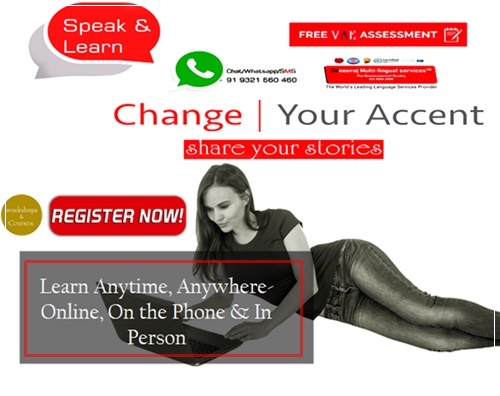 Book your Free & Friendly 20 minute phone consultation
Call us NOW   on 0 9820 17 17 66 Monday-Sunday between 8am-8pm.
The strength of Shared Learning – Use your Cell Phones as an Educational Tool
Numerous forms of education need to be spread around the world. This does not include only school or college subjects, but also focused topics such as Accent and Soft-skills. One can look at the positions and then follow the same on one's own, without having the need to go to a personal trainer.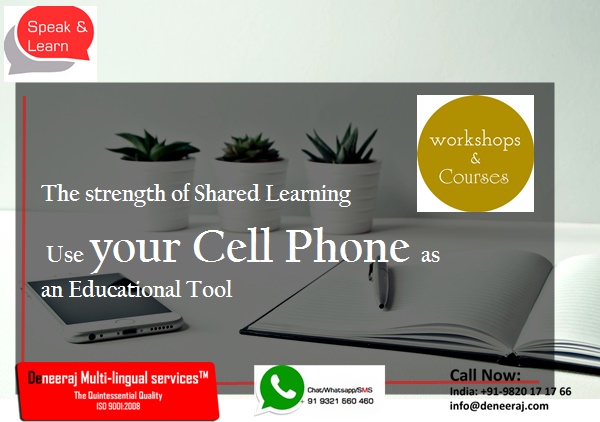 Apart from the above, Skype is another medium that can be used for increasing awareness and spreading education. One-to-one or multi-user sessions can be held via video on Skype as well. Tell-seminars can be conducted over the phone. In short, distance is no longer the parameter when it comes to spreading education far and wide, and it has reached all stages of life- whether study, work or even after retirement.  
Become Fluent in a Foreign Language through Online sessions & Over the Phone Courses
nFor the current and future globalized business environment, our Foreign Languages e-learning programs are being drive for cost reduction and taking productivity ahead. Employee enrollment is said to reveal greater numbers than most student enrollment programs around the world. For employees, context is very important in order to ensure that learning remains socially & digitally relevant.
Still Have Queries
Call us at +91 (0) 805 244 2444
Online & On the Phone Training To Be Individualized, Interactive & Immersive
Individuals need training and support throughout their careers at DEneeraj Multi- lingual services® (DMS) we always look for ground-breaking and applied methods which help employees apply learning to professional careers. It is here that online and Over the Phone training is extremely useful in providing Interactive Learning Environment where the learner can assimilate situations without fear or apprehension with amazing Advantages of Learning Online, on the Phone or Skype Sessions.
Online & On the Phone courses- Student Centered Learning
A number of online immersive platforms are now available globally. Skype and whatapp have recently come up with the above platforms has shifted the focus of training from the trainer to the learner. Overall, the main idea projected here is that, Online & on the Phone immersive and highly interactive learning is able to combat distractions during learning, keeping in mind the low attention spans of modern learners.
Call NOW for Engaging Phone Conversation & Discover The Wining Power of Friendly Evaluation!
Accomplishment Story from our Learner
"The team DEneeraj has been a source of knowledgeable training and  has worked wonder in Accent training…"-  Shiora  khare
Contact us now for a FREE Accent Assessment!
By DEneeraj Multi- lingual services® (DMS)