Training
Training and Development
Our Professional and personal lives   are constantly changing,  evolving, and becoming more and more challenging so we must  grow and learn as fluxes of life  throws on us.
The Most sought-after skills you must learn

NOW

:
Presentation skills & Public Speaking
Conflict resolution
Writing & Copywriting
Leadership skills
Etiquette and Manners
Intranet skills
SEO & SMO
Emotional Intelligence.
Psychology and Human Behavior
Time management.
Become Fluent in a Foreign Language
At DEneeraj Multi- lingual services® (DMS), we're big fan of creative ways to teach Coherent, Confident Communication Skill that's Engaging, Influential, & Enjoyable. Our workshops are invitation of "learning, practicing and succeeding in Languages, Dialects, Soft-skills, Voice and Accents".
Looking for Personalized One on One Training?
Our Executive Presentation sessions, courses and seminars at different locations will help you develop and ameliorate a captivating and engaging Public Speaking style, leading to amazing outputs for you and your organization.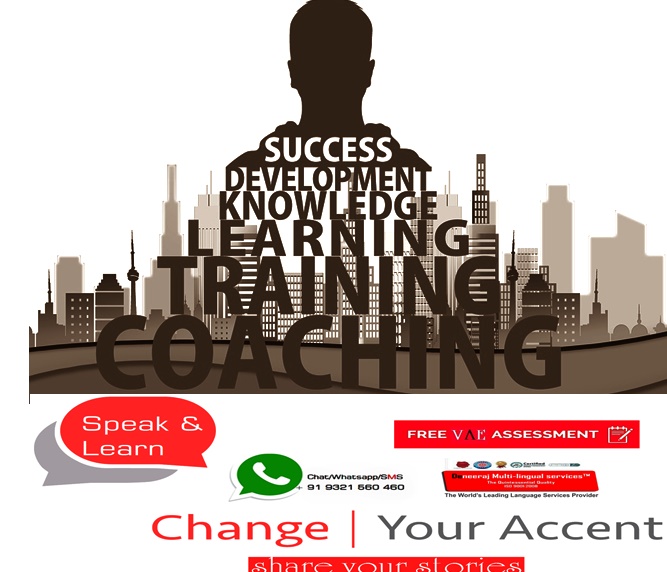 One -day seminar/workshop on Public Speaking & communication skills in the workplace
DEneeraj Multi- lingual services™ (DMS) Maximizes Your Learning Power
DEneeraj Multi- lingual services™ (DMS) as a company is built for learners, trainers and linguists by best in the field, so we thought we would share some of our tips with you, to help you create an engaging, unforgettable experience for your participants. By these insights and experience you can start Dominating Your Industry: How to Become the Best in Your Field
All our courses, Trainings  and programs are customized. By tailoring each course to your participants, you will find that your results will increase a thousand-fold. Our dedicated team uses examples, case studies, anecdotes and stories that are relevant to the group.
We screen, Identify and evaluate all participants are strangers or whether they work together. We tailor our approach accordingly.
We know that different people have different leaning style so we use different types of activities to address it
Our experiential Training courses and programs are about creating awareness and help you to communicate through effective body language. We must recognize that Body Language is Language; it simply means you can communicate more accurately when you verbal and nonverbal communicational tools complement each other.
Many more workshops and courses …
Get in touch with us for any query
By Deneeraj Multi-Lingual Services