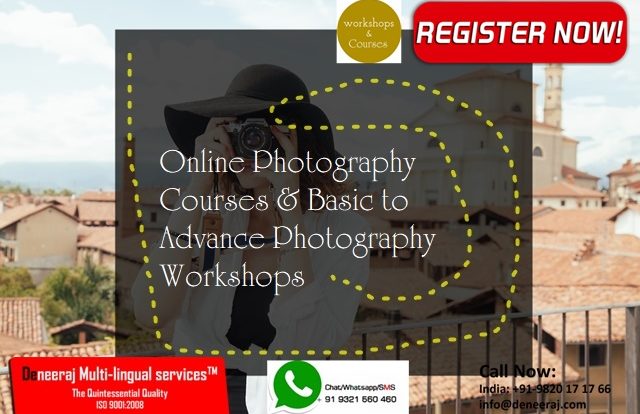 Photography Courses
Online Photography Courses & Basic to Advance Photography Workshops
You can learn the basic nuances of photography and become truly professional photographer when you have mastered your camera and artistic expressions . DEneeraj Multi- lingual services® (DMS) Courses and workshops are a superb beginning for anyone's journey of photography . our simple photography techniques can help you to learn and master photography. We can see people and wonderful animals through our photography courses and workshops in Mumbai, Delhi, Lucknow and other major cities of India, you can also be trained Online by experts   in their true light: having a natural belief in and reverence for nature photography.
Photography Workshops, Tours, and Trips, programs & one -Day Seminar
Our workshops start with many in-house evaluation methods, and then we built on where you are and cover sophisticated techniques like analytical skills. We encourage you to give a speech at the end of the workshops. A video recording of that speech is given to you for home review.
DEneeraj Multi- lingual services™ Photography workshops & program, you and your organization expand Photography& communication, our one on one public speaking and presentations sessions are clubbed with other requisite soft-skills will make you superman in your workplace.
Looking for Personalized One on One Training?
Our Executive Presentation sessions, courses and seminars at different locations will help you develop and ameliorate a captivating and engaging Public Speaking style, leading to amazing outputs for you and your organization.
One – day seminar/workshop on Photography& communication skills in the workplace
Get in touch with us for any query
By Deneeraj Multi-Lingual Services