Comprehensive Hindi Courses, Workshop & Online Sessions in India
Hindi is the lingua franca of-India. India has become key spiritual, travel and business destination of the world and a true global power. There has been lots of inquisitiveness about India and Indian culture – thus learning Hindi language is extremely important.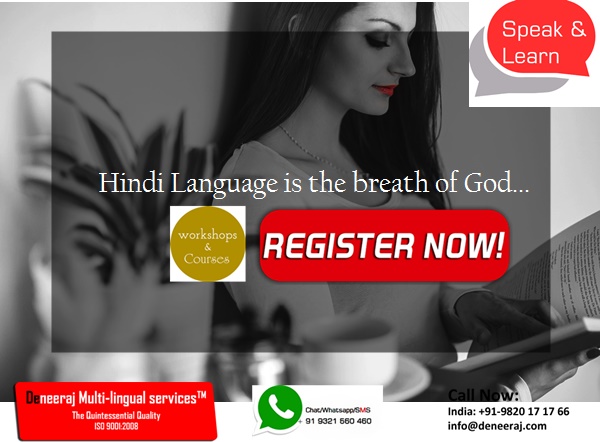 Our Hindi Courses, Workshop & Online Sessions are structured for anyone who wishes to learn Hindi language from Beginners or Intermediate to Advanced levels, while enjoying their time in India.
Learn Hindi Online and on Your Mobile
Book your Free & Friendly 20 minute phone discussion
Call us NOW   on 0 9820 17 17 66 Monday-Sunday between 8am-8pm.
Hindi Lessons for Actors in Mumbai
Hindi can drastically improve your chances in Bollywood as an actor, that's why it is an absolutely important to learn correct and culturally appropriate Hindi/Urdu sounds, phrasings & dialects.  Our highly interactive Hindi language lessons  to an aspiring Actor in Mumbai have been personalized  to facilitate  prerequisites requirement of his/her role  from the easiest   to the most difficult, making the progress of both spoken and  written Hindi super simple.
Call Us Now: +91 (0) 9820 1717 66 & Chat Whatsapp At +91 (0) 9321 560 460
Hindi Training for expats in Delhi & Mumbai
our Hindi Training  online through Skype as well as on the Phone Courses  in Delhi  are  planned specifically for the fast and lively progress of  Hindi language skills, through dialogue , the use of common  expressions, phrases  and sayings, plus   simplifying Hindi  grammar.
1:1 Training Online Session via Skype
Register now and upgrade your existing  Hindi language skills with the DEneeraj Multi- lingual services® (DMS) Excellence Assured
 Hindi Lessons for foreigners in Rishikesh
DEneeraj Multi- lingual services® (DMS) Special Hindi Language   course for foreigners in Rishikesh you will learn about the most common and newest methods of Hindi  learning and the different improving techniques available in order to improve your language.
Our innovative learning method  to increase useful and academic aspects of the Hindi language  which are important for all Hindi teachers deploying different learning materials (audiovisual, films, games, written material etc.), training types, student's assessment, answer of difficulties emerging in class etc.
Interested in one of our courses? Let's chat on whatsapp +91(0) 9321 560 460.
Experiences of an esteemed participant:
"Only after few Hindi lessons, I almost instantly felt  confident to speak Hindi. "– Fernanda from Brazil in 2015
FIND OUT MORE…Register Now!
For more information, please call us on +91 805 244 2444 or email info@deneeraj.com