Description
Hindi, Sanskrit, English Courses & Sessions   for Expats
The influence of Hindi language has been so significant in the whole word that it is the fourth most-spoken first language in the world, after Mandarin, Spanish and English. It is also mutually intelligible with language Urdu.
​Our workshops are invitation of "Learning, Listening ,  Practicing and Succeeding."
 At DEneeraj Multi- lingual services® (DMS), we're big fan of creative ways to teach Coherent, Confident Communication Skills, that's Engaging, Influential, & Enjoyable.  Ameliorate your knowing and confidence on this intensive 20 session course in Voice, Elocution & Accent Softening/Reduction ​ with "Standard Hindi". Structure, voice production and rhetorical devices are all covered.
Duration: 20 (2 hours per session)
THE ELEMENTS:
(Phonological, grammatical, lexical & semantic etc).
THE CHOICE OF WORDS:
(Choosing the familiar & precise word, avoiding the superfluous word, the handling of    words etc).
Hindi Grammar
Pronunciation & Rate of Speech
Accent Neutralization
Sentence and syllable stress
Cultural differences
Rhythm and stress patterns
Using intonation for attitude, emotion Pausing and breathing
Relationship between spelling and pronunciation
​Different Hindi  ​Accents familiarization and extended listening practice
​​Learn the World's Best Skills You Need To Succeed At Almost Anything
Personal  Training,  1-on- 1 Online, on the Phone or Skype Sessions with Countless Benefits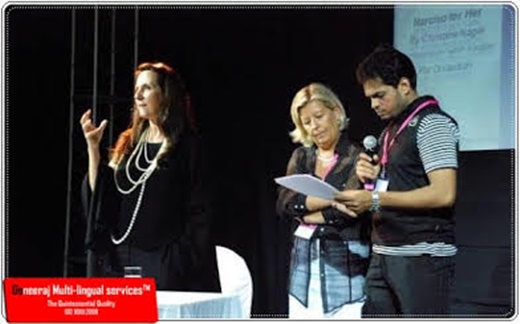 Anytime, Anywhere, Flexible, Convenient, Comfortable, Scalable, Self-Paced, Regulated Learning, Eco-Friendly & Easy On the Pocket
Still Have A Question? Call Us +91  805 244 2444
Objectives of our Training:
​At DEneeraj Multi- lingual services® (DMS), One to one language training helps you achieve your goals with support & motivation from your own personal language coach. ​ that's Engaging, Influential, & Enjoyable. So that means it's perfectly all right to compromise with the occasional unventilated grammatical rules (and many times it's even preferable).  But, on the contrary, making some Conversational Hindi mistakes just makes you look awful, and blunts your effective communication.
Nevertheless, the most important thing is to learn from these errors so you become a more capable, confident Orator. Here's hoping that some of these suggestions can be supportive to you.
​Why One-to-One Training can work well for you?:
One-to-One Training Sessions are tailored to your needs, designed to help you achieve your personal goals and develop new skills through intuitive sessions and detailed diagnostics.
We can deliver One-to-One Training Sessions at Homes, Offices, off-site or remotely – themes covered include: Voice & Vocal Power, Articulation, Elocution and Accent Softening, Conquering Nerves, Pitching for Success, Performance in Presentation, Personal Impact, Impact & Inspire, Building Rapport, Increasing Influence, Media Training, Storytelling, and Courageous Conversations.
* You can be frank and open, minimizing problems of confidentiality
* The whole course can be tailored towards specific areas and focus on topics relevant to you.
  Pick up the Phone and Learn:  Flexible learning sessions
Your Coach will call you for your session.
Learn whenever, wherever!
Learn to speak Hindi  Professionally. Call: +91 805 244 2444  for more information.
Even More Benefits of Online & On the Phone Learning
Flexible and convenient! • Learn virtually anywhere at your workplace, in your home or while even you are commuting • Travel time and travel costs are eliminated • Optimal use of time
Intensive and Semi Intensive Hindi  programs are designed for students who want to improve their speaking, listening, reading, writing, and grammar skills.

Training I 1-on- 1 Online, on the Phone or Skype Sessions
Hindi Course for Expats
Hindi, and other languages – yoga and meditation techniques
There is a large variety of courses and classes offered in all parts of Bombay (formerly Mumbai) and our featured selection is by no means complete. The trouble is that locations and names are changing so frequently that it is hard to keep the information updated at all times.
Therefore we recommend you call the organizer prior to your first visit and inquire about the location, commencement and fees involved. It is useful to ask for a "landmark" to direct the taxi driver as sometimes it can be quite tricky to find the place.
Engaging in a course or class helps to settle in quickly and is a good way to find new friends, either local or expatriate. Often classes are organized by international clubs or individual expatriates who are using the clubs" venues. You may be able to join even if you are not a club member.
Do not hesitate to drop us an email : info@deneeraj.com