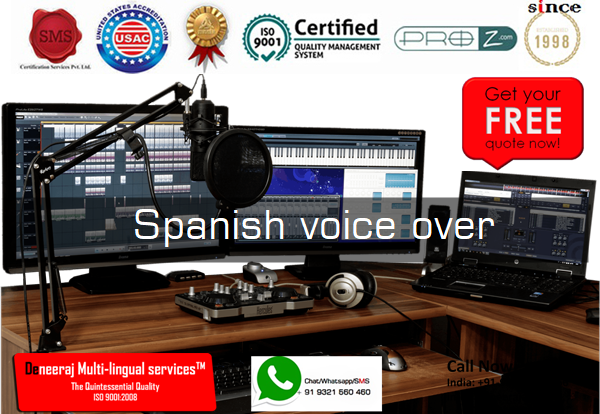 Spanish voice over
We deliver Spanish Voice over Solutions, Spanish Dubbing, Spanish Voice Artists, Spanish Heavy Base Voice over Artist, Spanish Voice Talent
Spanish voice Over and Spanish Dubbing in Delhi, Mumbai, Pune & Bangalore
Bilingual voice over are always a complicated task as, one not only needs to understand the subject matter in hand but he also has to reciprocate with the accurate context and relevance that is related to the target language. These emphasis on details is what makes DEneeraj Multi- lingual services® (DMS) voice over services different from all other Spanish voice over services in Mumbai. With an experienced team of voice over artists, DEneeraj Multi- lingual services® (DMS) offers voice over services to more than 160 languages.
The voice overs are done by native users who has years of experience of speaking the language. Hence you are rest assured that, the voice overs done by the team will carry every quality that you have expected in a voice over. With office situated at Delhi, DEneeraj Multi- lingual services® (DMS) offers various voice over solutions to many different fields.
Spanish voice over and English to Spanish Translation services as per your requirement
Services offered by DEneeraj Multi- lingual services® (DMS)
 Voice over, as has been previously said, also takes in to account about the context and its interpretation may differ from society to society. Hence voicing over bilingual subject is very difficult as you will have to take consideration on many different aspects. Our team is consisting of many veteran artists who has done voice over for years in different fields and they are more than capable of understanding the context and make perfect voicing over for you.
As a leader in voice over with our experienced Spanish Voice over Artists
World leaders in Spanish dubbing, voice-over, and subtitling services! Spanish Professional actors. Dubbing And Subtitling. Brands: Spanish Subtitling, Dubbing, Voice-over, DTP, e-Learning.
Along with Spanish voice over with a great team behind, DEneeraj Multi- lingual services® (DMS), also offers English to Spanish Translation services in Delhi. The team has created its own position in the world of voice over industry with their ability to understand your requirements and they try to replicate them as much as possible. As these voice overs are preferably done by native users, hence you will feel the native tone, colors in the voice over. Be it films, or cartoons animation, these voice overs have created its own impact.
Competitive rates on voice over solution
 DEneeraj Multi- lingual services® (DMS) has offered its voice over services in Delhi other fields also such as films, cartoon animations, corporate events etc. Due to the experienced team behind and commitment with dedication, we have established a brand that is trusted by hundreds of companies. We always try to keep our high standard and hence we assure that you will always get a premier service when you choose us.
Contact us now for a 

FREE

 

quote!
By DEneeraj Multi- lingual services®