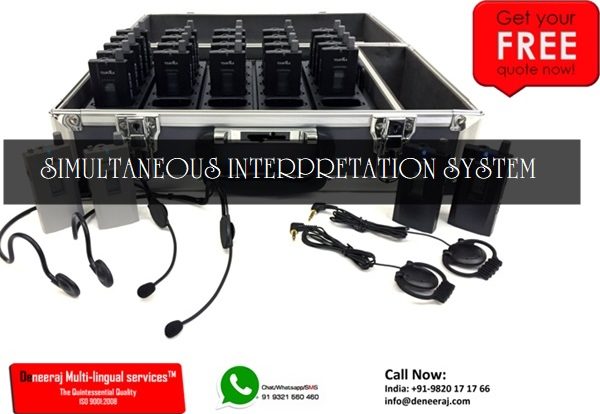 Simultaneous Interpretation Equipment
Portable and Simultaneous Interpretation Equipment
We have doubtless the most  Professional Interpretation  with Portable and Simultaneous Interpretation Equipment in more than 160 languages, DEneeraj Multi- lingual services® (DMS) Conference Interpreting(CI) and  Simultaneous Interpreting (SI) interpreters and Equipment such as  Headsets, Microphones, Monitors, PA system and sound proof-booths.
Conference Interpreting(CI)
Simultaneous Interpreting (SI)
Whispered Interpreting (Chuchotage)
Face-to-Face Interpreting
Telephone Interpreting
Video Interpreting
Interpretation Equipment Services, a must need right now
Language interpretation is very common in this world right now because of international Business, Conference, Seminars, Meeting, Trainings, Politics and so many things like that. In addition, this can be done more efficiently by the interpretation equipment available with DEneeraj Multi-lingual Services® (DMS) provide the Professional services  for interpretation equipment. We are one of the leading companies to provide you the best ever interpretation services along with the equipment in Delhi, Pune, Mumbai, Kolkata, Noida, Ahmadabad, Chennai, Bangalore.
The Importance of the Simultaneous Interpretation Equipment
Language interpretation is very important right now for our daily life because we interact with so many people in our life who are from different zone and obviously, language differs because of that. Our simultaneous equipment is generally infrared equipment in which infrared rays are used to interpret the language and emit it towards its audience. The ray should not have any obstacles like curtains or walls and it should be we reached directly to the audience right from the device. The device looks like a remote control of the television 300 and the interpreter itself does the operating.
Best simultaneous Equipment Services by DEneeraj Multi-lingual Services ® (DMS)
If you choose DEneeraj Multi-lingual Services ® (DMS) for your interpretation equipment Delhi then that would be the best choice of your life. We provide this solution in the best way possible across the market. The best thing about us is we have done enough market research regarding this and we provide language interpretation services as well as the equipment. Therefore, it will be a one-stop facility for you if you want both of them.  So DEneeraj Multi-lingual Services ® (DMS) knows very well l how to satisfy their customer with utmost care regarding the product and the service. If you need any more clarification then feel free to contact us.
Contact us now for a

FREE

quote!
By DEneeraj Multi-lingual Services ® (DMS)