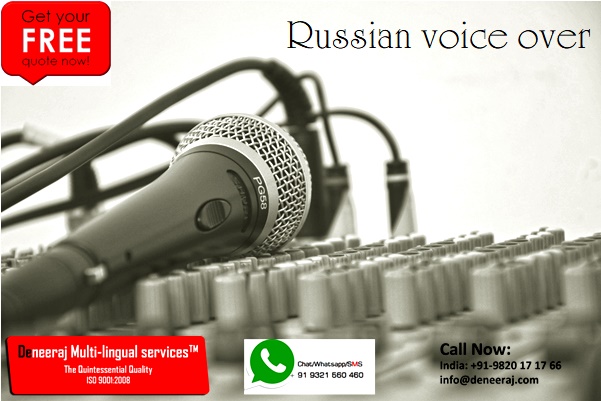 Russian voice over
Russian voice over solutions and English to Russian Translation Services
Russian Voice Over & Russian Dubbing Delhi Mumbai Bangalore Pune
DEneeraj Multi- lingual services® (DMS) consists of various voice over artists who can help you with Russian voice over services in Delhi with greater accuracy. One aspect that we always emphasize on voicing over is, the context on what the words are spoken should always be relevant to the target language. Hence, when our team of voice over does take the project, you are ensured that, the voice over will follow a greater standard.
We deliver Russian Voice over Solutions, Russian Dubbing, Russian Voice Artists, Russian  Base Voice over Artist, Russian Voice Talent
In the technology which is used by our voice over artists, a previously recorded Russian audio is taken as the source audio and with the help of this source audio, further processing takes place as a result of which the voice over bears the quality that a native user has. With office located at Delhi, DEneeraj Multi- lingual services® (DMS) also offers extensive English to Russian translation services in Mumbai and other parts of the country.
Russian voice over as you require
Our voice over team understands the requirement of the customers more than anyone and hence, they are able to provide you with a quality service. The bilingual voice over section is always a tough section because you not only need to do the voice over but you also need to replicate the emotions that are used in the target language also. This makes the voice over even more difficult. But with our artists at voice over, you won't need to worry and you are assured that you will have the native feeling in voicing over.
As a leader in voice over with our experienced Russian Voice over Artists
World leaders in Russian dubbing, voice-over, and subtitling services! Russian Professional actors. Dubbing And Subtitling. Brands: Russian Subtitling, Dubbing, Voice-over, DTP, e-Learning.
Renowned in field of Russian  voice over
Offering various voice over solutions, DEneeraj Multi- lingual services® (DMS) has been a renowned name in the field of voice over. Since all these voice over artists are native language speakers, it gives us the opportunity to voice over with a traditional native touch which could be found in the target language. The team has years of experience in voice over and they sure will make great impact in your future projects.
Competitive rates on voice over solution
 Be it films, or carton animations or at corporate events, we offer our services to various sections of another professional field. With the touch of native tone, it has enabled us to serve the customers and you with even greater service.
Contact us now for a 

FREE

 quote!
By DEneeraj Multi- lingual services®