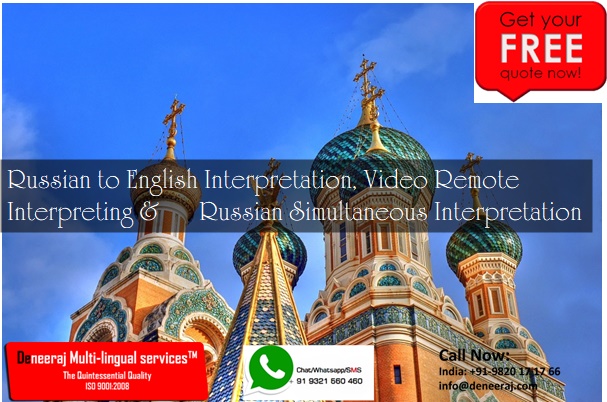 Russian Interpretation
 Russian to English Interpretation, Video Remote Interpreting &         Russian Simultaneous Interpretation
DEneeraj Multi- lingual services® (DMS) has gradually become a prominent and a leading player in Interpretation and Simultaneous interpretation solutions with expertise in Russian Interpretation and Interpretation Equipment. Our Interpreters, consecutive and Simultaneous interpreters are very skilled and experienced, to provide the clients high quality, accurate and subject specific Interpretations. At DEneeraj Multi- lingual services® (DMS) for trade, business, social, legal or medical, we offer Russian Interpretation services anywhere and everywhere. We support our clients connect effectively throughout the Russian speaking world.
Professional Russian <> English Interpreters across India
Nationwide specialist Russian Interpretation, Russian interpreting service. Economical rates. Work undertaken by professional Russian interpreters, Russian Simultaneous interpretation.
Wherever you are in Major Cities in India. New Delhi, Mumbai, Bangalore, Pune, etc. if you need an experience English to  Russian or  Russian to English  interpreter for professional and personal reasons, we can provide you with a bilingual  Russian <> English Interpretation services . .
Face-to-Face, Telephone, & Video Russian<> English Interpretation Services
Russian Simultaneous Interpretation
Russian Consecutive Interpretation
Russian Telephone interpreting
Russian Video Remote Interpreting
Russian Face to Face Interpreting
Russian Whispered Interpretation
Russian consecutive to simultaneous Interpretation
Need of Russian to English Languages Interpretation & Interpretation Services
Look no further for   high quality Russian to English Interpretation Services. As our Russian interpretation solutions are in high demand, industries need a company they can trust. Language barriers that result in miscommunication generate   confusion between English speakers and Russian speaker. We believe that by hiring only native Russian and English Bilingual  speakers for interpreting  English into precise Russian allows us to provide the best quality Interpretations for your esteemed clienteles. DEneeraj Multi- lingual services® (DMS) is a leading company that provides high quality English to  Russian and  Russian to English  Interpretation, telephone interpretation , and interpretation equipment   and Voice-over services at very economical cost. Therefore, we only employ and engage   qualified and experienced native Russian interpreters  to provide your clients the best quality in short span of time.
Benefits of Outsourcing Russian Languages Interpretation & Interpretation Services to Us
We have worked with clients across social landscape.  We provide vastly proficient and extremely professional English to  Russian Interpretation & SI Interpretation Services and website localization solutions, who are able to carry your product and services message  anywhere including business conferences, training seminars, workplaces and your online digital signature remain intact in  Russian .
English to Russian Interpretation Services & Russian Website Localization Solutions
We offer all kind of Russian d Interpretation Services & Simultaneous interpretation Solutions: so that you can communicate online /offline   with your RUSSIAN speaking customers confidently. In the era of interconnected economies, there are good probability you do business with other language speaking audience such as Russian speaking market or trade.  The certain Industries need swiftness speed and cultural. DEneeraj Multi- lingual services® (DMS) is probably fastest Russian to English and English to Russian professional Interpretation & Interpreting  services in India.
Get prompt & FREE Russian <>English Interpretation quote.