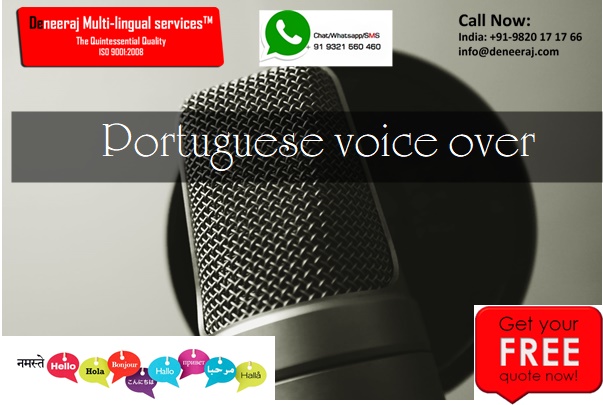 Portuguese voice over
We deliver Portuguese Voice over Solutions Delhi, Mumbi, Bangalore, Pune, Portuguese Dubbing, Portuguese Voice Artists, Portuguese Heavy Base Voice over Artist, Portuguese Voice Talent
Portuguese voice over & Portuguese Dubbing
DEneeraj Multi- lingual services® (DMS) is one of the leading Portuguese voice over services in Delhi and across the world which has maintained high standard of voicing over. The process of voice over requires
Greater understanding of the language and it is even harder to replicate the same in the targeted language. But with DEneeraj Multi- lingual services® (DMS)'s Portuguese voice over team, you are assured that at no time you will feel the whole product artificial at any point and it will be done with utmost care and precision so that you meet a product that meets your expectations.
DEneeraj Multi- lingual services® (DMS) is a bi lingual voice over artist provider which involves multiple steps in order to achieve the end product. At every step, we make sure that precision and accuracy is maintained at a high level and this has been the cause due to which hundreds of companies has entrusted us with voice over. From films to cartoon animation, our team has voiced over in multiple different sectors of professional field.
Portuguese voice over and English to Portuguese Translations as per your requirement
 DEneeraj Multi- lingual services® (DMS) offers its voice over services in more than 160 languages that is spoken all across the world. While voice over, emphasize also has been put in to the fact that, these voice overs are done by voice over artists who has multiple years of voice over experiences. And since these voice overs are done by native speakers, hence it is natural that these voice overs come with the native feeling along with it.
As a leader in voice over with our experienced Portuguese Voice over Artists
World leaders in Portuguese dubbing, voice-over, and subtitling services! Portuguese Professional actors. Dubbing And Subtitling. Brands: Portuguese Subtitling, Dubbing, Voice-over, DTP, e-Learning.
DEeeraj Multi- lingual services® (DMS) has been a name of excellence in voice over field because, we offer our solutions without any compromise in quality. The voice over will be done by artists from voice over who is well known in the field of voice over and rest assured, we will try to live up to your expectations.
Competitive rates on voice over solution
 Voice over is a difficult art and it does involve multiple levels of dimensions with a great understand of the target language. But with well-equipped team, we are able to provide voice over services in films, cartoon animations and even in corporate events.
Contact us now for a 

FREE

 quote!
By DEneeraj Multi- lingual services®