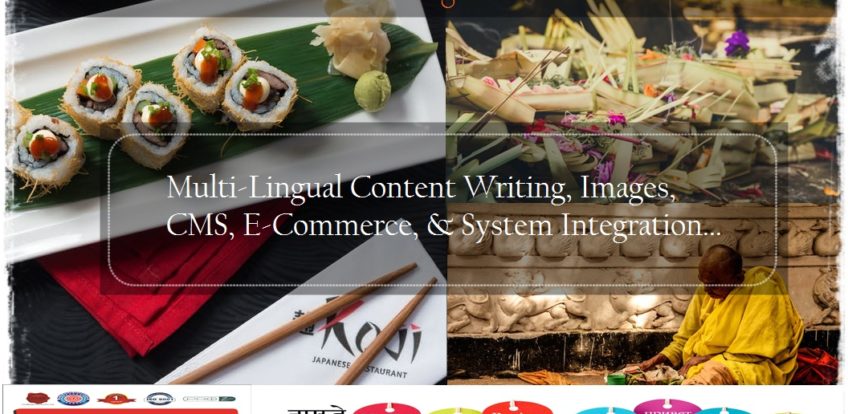 Multicultural Marketing & Website Localization
Multicultural Marketing & Website Localization
DEneeraj Multi- lingual services® provides and dominates MULTICULTURAL MARKETING service industry with ease, our wide range of HUMAN Translation & Multicultural Marketing solutions of documents, audios, videos, products and tools. From the MULTICULTURAL MARKETING of simple documents to MULTICULTURAL MARKETING of complicated products, information and tools ; to MULTICULTURAL MARKETING of software, apps and websites; we have also an expertise in localizing of technical multimedia presentations to world-wide and specific target audiences, from real-time interpreting for interactive workshop workshops and seminars to doing dubbing and Voice-over in more than 160 languages and dialects. we have Multilingual Website Content, Design, Development & Positioning services and solutions.
Worldwide language multicultural marketing solutions
A multicultural marketing solutions company that delivers top-notch language multicultural marketing services, enabling clients to deliver multilingual content to a global audience.
Deneeraj multi- lingual services®; the global leader in innovative language multicultural marketing services & solutions in over 160 different languages and every linguistic assistance is backed by our 100% satisfaction guarantee.
OUR SERVICES:
Website Design, Multicultural Marketing & Website Localization
• Ecommerce Solutions
• Responsive Site • Website Management
Our multicultural marketing services include:
Social Media Optimisation (SMO)
Brand Adaptation and Development
Multicultural Market Analysis
Multilingual Media Management
Campaign Development and Execution
Multilingual Online Customer Service
Professional multicultural marketing for almost every language and industry
Multicultural marketing services for content types
Multicultural marketing of documentation
Multicultural marketing of product and user training
Multicultural marketing of e-learning
Multicultural marketing of product specifications and marketing guides
Multicultural marketing of marketing and sales literature
Multicultural marketing of software applications
Multicultural marketing of erp content and software
Multicultural marketing of multimedia
Multicultural marketing of design guides and specifications
Multicultural marketing of legal documentation
Multicultural marketing of compliance and regulatory content
Multicultural marketing of health and safety content
Contact us now for a

FREE

quote!
Our multicultural marketing team provides exceptional quality and service by taking a customized, consultative approach to each project. We provide multi t language services for global players s to get your products and services to market quicker and share vital product and services information with an international chain.
Document multicultural marketing and back multicultural marketing .
Multicultural marketing of products & tool.
Interpretation & s. I. Of foreign as well as indian languages
Typesetting, proofreading & graphics
Transcription, transcreation & transliteration
Multicultural marketing & research
Career support for language professionals
Multilingual subtitling, (VO) voice over, recording, e-book & publishing
Website multicultural marketing with website design & web content writing
Writing speech, scripts, technical, copy & content
Linguistic validation & training
Questions about our multi-lingual multicultural marketing services?
Call us at 9820 17 17 66 or drop us mail at info@deneeraj.com