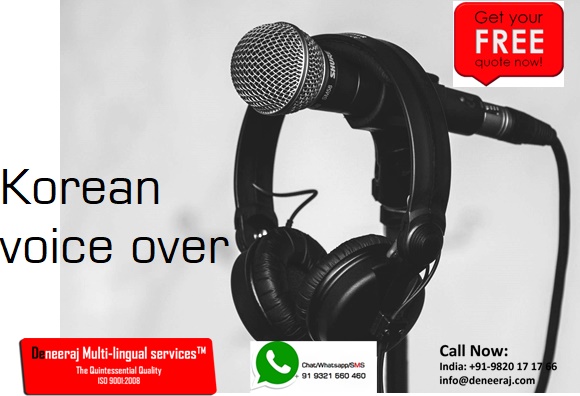 Korean voice over
Korean voice over Solutions and English to Korean Translation services
Korean Voice Over & Korean Dubbing Mumbai, Delhi, Bangalore, Pune
Providing voice over services for over more than 160 languages that are spread across the globe, DEneeraj Multi- lingual services® (DMS) has been one of the leaders in Korean voice over services in Mumbai which offers bi language voice over services with excellent quality. Voice over is a complicated task due to the fact that, the people who are performing voice over should understand the content and then bring social context, references along with emotions in order to make these voice overs a precise one. The team at DEneeraj Multi- lingual services® (DMS) is experienced with multiple languages and they can do the voice over with native touch.
We deliver Korean Voice over Solutions, Korean Dubbing, Korean Voice Artists, Korean Heavy Base Voice over Artist, Korean Voice Talent
That's why you can be assured that with Korean voice overs performed by this team, the end product will always live up to your expectations. These voice overs are performed on the basis of a prerecorded Korean audio which then goes through multiple steps. Situated at Delhi, DEneeraj Multi- lingual services® (DMS) has been performing voice over services for various events, companies.
Korean voice over and English to Korean Translation Services as per your requirement
 There are various services which are offered by DEneeraj Multi- lingual services® (DMS) and with providing service to hundreds of companies, it has earned the trust of hundreds of clients due to high precision of voice over service. In any voice over, there are different dimensions involves and a Korean voice over artist will always have to take all these aspects in to consideration so that the voice overs fit perfectly in to the scenario. Along with voice over services, DEneeraj Multi- lingual services® (DMS) also offers English to Korean Translation services in Mumbai.
As a leader in voice over with our experienced Korean Voice over Artists
World leaders in Korean dubbing, voice-over, and subtitling services! Korean Professional actors. Dubbing And Subtitling. Brands: Korean Subtitling, Dubbing, Voice-over, DTP, e-Learning.
The hard-working team with its dedication and commitment, has made DEneeraj Multi- lingual services® (DMS) a leader in voice over services which now offers voice overs for various corporate events, films, cartoons and animations etc. Living up to the expectation is what this team thrive for and maintaining high standard with no compromise is the goal.
Competitive rates on voice over solution
Understanding the emotions and context in the language which needs to be voice over and then replacing it with contexts from the targeted language plays a crucial role in voice over. It is an art and our team has been providing the voice over services for films, cartoons and animations along with corporate events. Understanding the need of the clients is what sets up apart and our veteran team in voice over brings the expectations in to reality.
Contact us now for a 

FREE

 

quote!
By DEneeraj Multi- lingual services®