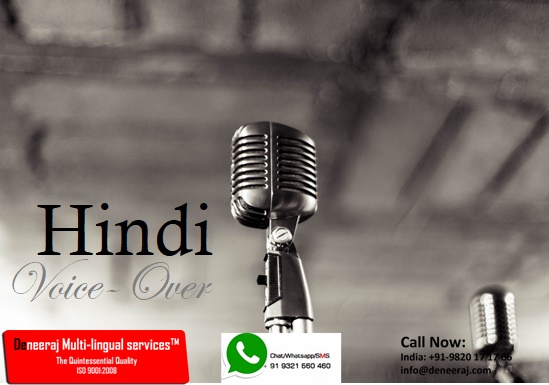 Hindi voice over
Hindi voice over Solutions and English to Hindi Translation Services
Hindi Voice Over & Hindi Dubbing, Delhi Mumbai Bangalore Pune
Voice over from one language in to another language requires great precision and understanding of both the language. It's not only about grasping the concept but you need to replicate it in the target language with the emotions, contexts from the target language itself. With excellence in Hindi voice over services in Delhi from DEneeraj Multi- lingual services® (DMS), you have the opportunity to bring voice over to a much higher standard which will reflect the tone of a native one. The team also offers a comprehensive English to Hindi translation services in India.
We deliver Hindi Voice over Solutions, Hindi Dubbing, Hindi Voice Artists, Hindi Heavy Base Voice over Artist, Hindi Voice Talent
Using modern technologies, our veteran team will ensure that you get the precise Hindi voice over as you have required. These voice over artists in the team has years of experience under their belt and these experience plays a vital role in performing the voice over as, it makes the context clearer and accurate one. Using a prerecorded audio of Hindi, further steps are taken so that the team could bring the standard you have expected.
Hindi voice over at your disposal
Services offered by DEneeraj Multi- lingual services® (DMS)
 The voice over services offered by DEneeraj Multi- lingual services® (DMS) is always trusted with high quality and high precision where a native user will perform the voice over so that the voice over is no different than the speaking of a native person. These services are offered by a team of veteran voice over artists who has done voice over in films or corporate events.
Due to the high standard that is maintained at DEneeraj Multi- lingual services® (DMS), it has been a trusted name in the community and it has been possible due to the dedication and commitment that is put forwarded by the voice over team. With their experience, they understand the requirement of the client better than anyone and has the ability to serve them better.
As a leader in voice over with our experienced Hindi Voice over Artists
World leaders in Hindi dubbing, voice-over, and subtitling services! Hindi Professional actors. Dubbing And Subtitling. Brands: Hindi Subtitling, Dubbing, Voice-over, DTP, e-Learning.
Competitive rates on voice over solution
With all the complexity that is involved in the process of voice over, the DEneeraj Multi- lingual services® (DMS) team makes it possible that high standard of voice over is attained to meet the expectations of the clients. DEneeraj Multi- lingual services® (DMS) has served over hundreds of companies and their satisfaction with the service is a symbol of our excellence service that is provided to them. Being a leader in the field, DEneeraj Multi- lingual services® (DMS) always thrives to maintain its high-quality content.
Contact us now for a 

FREE

 

quote!
By DEneeraj Multi- lingual services®