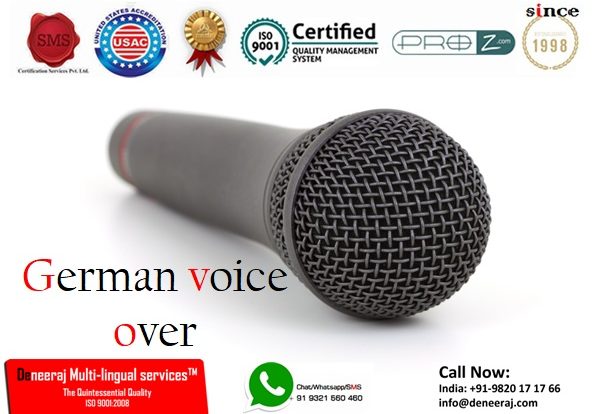 German voice over
German voice over solutions and English to German Translation services
German Voice Over & Dubbing Delhi, Mumbai, Bangalore, Pune
A voice over service requires understanding the culture and the context in which the original words were spoken of. Our experienced team, with vast knowledge of art of voice over, gives you the perfect solution to voice over via technologies which are modern and provide with great accuracy.
DEneeraj Multi- lingual services® (DMS) offers exceptional German voice over services in Delhi and English to German translation services in Pune and other cities of the country.
We deliver German Voice over Solutions, German Dubbing, German Voice Artists, German Heavy Base Voice over Artist, German Voice Talent
The previously recorded German audio is taken as the source audio in this technology where it was spoken by the native users. After that, multiple technologies are involved in the whole production which will provide you a voice over that will have a native touch. The voice over section of DEneeraj Multi- lingual services® (DMS) that helps with German voice of over is located in Delhi. Since these voice overs are done by veterans, who has years of experience in the field of voice over, you can always trust the quality.
German voice over at your requirement
Services offered by DEneeraj Multi- lingual services® (DMS)
 The bilingual voice over solutions always require understanding the associated terms with a context that will be related to the target language. Since, these voice overs are done by native users, you can be assured that even the complicated scenarios will be simple in the target language. Due to understanding the requirements of the customer, DEneeraj Multi- lingual services® (DMS) has become a renowned name in the field of voice over in multiple languages.  With offering services for more than 160 languages, DEneeraj Multi- lingual services® (DMS) has been a leader in this field.
As a leader in voice over with our experienced German Voice over Artists
World leaders in German dubbing, voice-over, and subtitling services! German Professional actors. Dubbing And Subtitling. Brands: German Subtitling, Dubbing, Voice-over, DTP, e-Learning.
DEneeraj Multi- lingual services® (DMS) offers various voice over solutions which includes many different languages. The voice over, that is performed by the artists, are no different than that spoken by a native user since these voice overs are itself performed by voice over artists which have years of experience under their belt. By putting much emphasis in to context and relevance, DEneeraj Multi- lingual services® (DMS) voice over solution has made a great impact in the field of German voice over.
Competitive rates on voice over solution
 We offer our services at various professional field. Be it in a commercial aspect or in films, or cartoon animations or even corporate events, our voice over team has always made that the quality and standard that we maintain, is always up to the mark. We thrive for quality and excellence.
Contact us now for a 

FREE

 quote!
By DEneeraj Multi- lingual services®