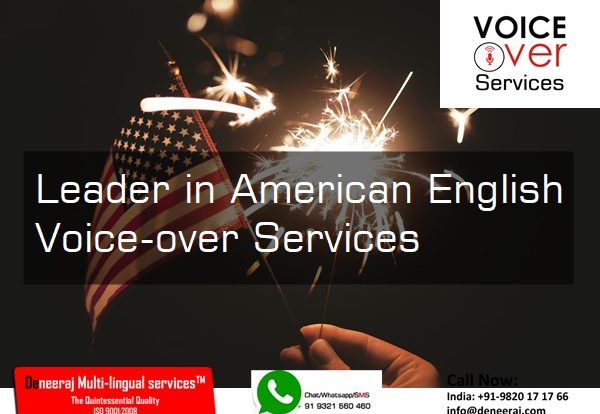 English Voice-Over Services
English  Voice-Over Services & American English Dubbing Artists
American English Voice Artistes from Delhi. American English voice artists from Mumbai. US Accent Voice artists in India.English Voice over Services in Mumbai. It is English voice over artist in Delhi, English-dubbing actor in Bangalore. We offer English Voice-over Services and English Voice Artists, English Dubbing and English Voice over talents.  Our English Voice-over Services and solutions, which includes diverse steps in order to accomplish the perfect English language VO. At each step, we make definite that accuracy and exactitude are upheld at a highest standard, and this has been the reason due to which hundreds of companies has trusted us with English voice over in Delhi.
How we can support, you find the right English voice Artists
British Voice Artistes from Delhi. British English voice artists from Mumbai. UK Accent Voice artists in India. We share free English voice samples with quote and proposal and sometimes we share customized as well as pre-recorded audios and demos, having into deliberation the variety of age, gender, tone, accent and style.
The type of message, the intended target audience and the purpose of the written communication are also crucial to choose what the suited voices are.
Pick Your US/UK aCCENT Voiceover Talent
Freelance male and female English voice over artists, selected, based on their versatility, charge nativity and outstanding voice quality. Every voice over artist can record in his or her own English as well as in English with fast turnaround times (TAT).
US English Voice-Over Services and UK Voice Artists as per your prerequisite
DEneeraj Multi- lingual services® (DMS) is one of the leading pan India English Voice-over Services and Voice Artists solution company   in Mumbai, which has retained high standard of voicing over. The process of voice over requires deeper understanding of the language and it is even tougher to replicate the same in the targeted language. However, with DEneeraj Multi- lingual services® (DMS)'s English voice over team; you are assured that at no time you will feel the whole communication will be done with utmost attention and meticulousness so that meets your expectations.
Our US/UK English Voice Over in Mumbai  Solutions and voice actors providing fast professional English voice overs from different studios in India.
Our valued clients depend on  our English Voice-Over capability to promise the quality, accuracy and native fluency of all their voice-over needs. Almost everything from corporate videos, webinars, feature films and TVCs, to video games and e-Learning courses. If you are looking an effective and native English language talent with neutral accent to communicate your message. Increase your audience engagement and brand presence on the global arena with DEneeraj Multi- lingual services® (DMS).
Leader in American English Voice-over Services and Voice Artists: Voice-Over Production Services
As a leader in voice over with our experienced English Voice over Artists in Pune. A World leader in English dubbing, voice-over, and subtitling services! English Professional actors. Dubbing and Subtitling. Brands: English Subtitling, Dubbing, Voice-over, DTP, e Learning.
English Voice over Connectivity
We have associates all over the world through WhatsApp, Source Connect, phone patch, and Skype so you can monitor and supervise the recordings from anywhere in the world.
After the recording, we can deliver the audios by email immediately with any format you prefer.  Ask for English voices samples, Listen to thousands of voiceovers by professional English voice-actors and then decide.
Contact us
NOW

for the Competitive rates &

FREE 

quote!

DEneeraj Multi- lingual services® (DMS) has been a name of excellence in voice over field because; we offer our solutions without any compromise in quality. The voice over will be done by English artists from voice over who is well known in the field of voice over and rest assured, we will try to live up to your expectations.

By DEneeraj Multi- lingual services®