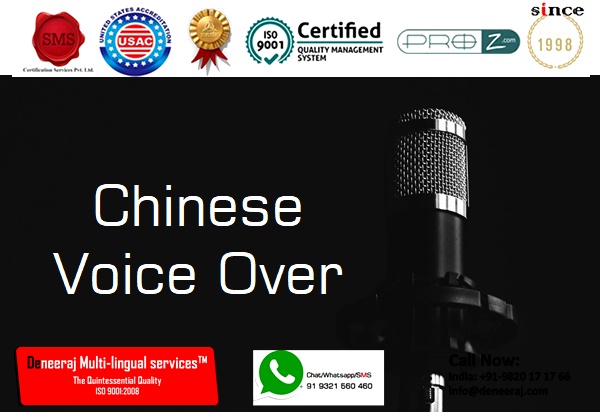 Chinese voice over
Chinese voice over services
Voice over is one of the most complicated jobs which requires understanding of the targeted language context, emotions and every aspect related to it so that the voice over seems natural and spontaneous that may have come from native speaker. With the experienced team that we have, DEneeraj Multi- lingual services® (DMS) offer Chinese Voice over with the help of additional technologies gives you the perfect recipe for voice over with accuracy.
We deliver Chinese Voice over Solutions, Chinese Dubbing, Chinese Voice Artists, Chinese Heavy Base Voice over Artist, Chinese Voice Talent
DEneeraj Multi- lingual services® (DMS) offers Chinese voice over services in Delhi, Mumbai, Bangalore, Pune and other parts of the country that are performed by veteran artists who has years of experience of voicing over in their resume. With multiple technologies involved such as using prerecorded Chinese audio spoken by native users is taken as the source audio and then further voice over upon it enables us to provide you with voice over with a quality that has a feeling of a native user of the targeted language. DEneeraj Multi- lingual services® (DMS) Office situated in Delhi oversees every aspect of the voicing over section and they also offer extensive English to Chinese translation services in Delhi.
Chinese voice over as per your requirement
Services offered by DEneeraj Multi- lingual services® (DMS)
 In order to be a perfect Chinese voice over artists, you not only have to understand the language, but you will also have to understand the force with what it is spoken, the emotions, the accent and everything related as all these aspects varies from one language to another language. Hence voicing over is a complicated task which requires years of experience. Thanks to our experienced team, now you will have the opportunity to voice over in a much higher standard, as they are equipped with much knowledge and resources.
As a leader in voice over with our experienced Chinese Voice over Artists
World leaders in Chinese dubbing, voice-over, and subtitling services! Chinese Professional actors. Dubbing And Subtitling. Brands: Chinese Subtitling, Dubbing, Voice-over, DTP, e-Learning.
At DEneeraj Multi- lingual services® (DMS) Chinese voice over services, we put particular attention to requirement of the customers. And since, we try to achieve what is required by the customers, there are hundreds of happy customers that has been served by us and we have able to build a trust around our name.
Competitive rates on voice over solution
We not only provide voice over for corporate events but also provide voice over for films, cartoon animations along with other fields also. Understanding emotions and then replicating them in the targeted language gives us the opportunity to set the bar higher and we can serve more and more people with much greater quality.
Contact us now for a 

FREE

 quote!
By DEneeraj Multi- lingual services®