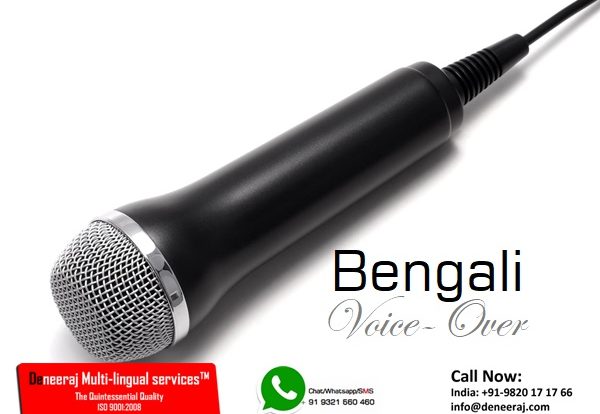 Bengali Voice-Over
Bengali Voice-Over Solutions Delhi, Mumbai, Bangalore, Pune and English to Bengali Translation Services
We offer our services in voice over from Bengali along with many other languages where our team will do voice over. Voice is a complex art where multiple different aspects of different society and languages are involved. You not only have to comprehend the gist of the subject but you will also need replicate the same in the target language. That's why, with our experienced team at DEneeraj Multi- lingual services® (DMS) translation from English to Bengali Voice over services in Delhi, we take account of every aspect of both the languages so that we can maintain a high-quality standard.
We deliver Bengali Voice over Solutions, Bengali Dubbing, Bengali Voice Artists, Bengali Heavy Base Voice over Artist, Bengali Voice Talent
The voice over is done by veteran voice over artists who has multiple years of experience in the field and equipped with modern technologies, they are able to give precise voice over which will meet your expectations. Using a source audio, which has prerecorded Bengali audio as spoken by native user is taken as the base and the voice over is performed on that very base. Located in Delhi, DEneeraj Multi- lingual services® (DMS) offers its voice over services over more than 160 languages.
 Bengali voice over as Per your needs
Services offered by DEneeraj Multi- lingual services® (DMS)
 DEneeraj Multi- lingual services® (DMS) has been in the business for long and due to the high standard and precision that we maintain, we are able to build a name of trust around us. We offer our voice over services for more than 160 languages that are from across the globe with special attention to the aspect that, the voice over should give a product which is closer to that done by how a native speaker speaks. Hence it feels natural and more native after the voice over is done.
As a leader in voice over with our experienced Bengali Voice over Artists
World leaders in Bengali dubbing, voice-over, and subtitling services! Bengali Professional actors. Dubbing And Subtitling. Brands: Bengali Subtitling, Dubbing, Voice-over, DTP, e-Learning.
With no compromise in quality and maintaining excellence, we have been able to lead the voice over field with our experienced team. Understanding customer and their requirements is something that we take with utmost important and hence, hundreds of companies have believed in us.
Competitive rates on voice over solution
With voice over for films, cartoon animations and corporate events, there are many different arrays of field where we offer our services. Voice over requires particular skills and our team is chosen to perform along with this skill set due to which we are able to provide excellent results.
Contact us now for a 

FREE

 quote!
By DEneeraj Multi- lingual services®