The dependability,accurateness, professional principles and TAT are the hallmarks of our professional and certified Translation & Interpretation Services in Delhi,Mumbai, Pune, Surat, Lucknow, and Bangalore India. DEneeraj Multi- Lingual Services® (DMS) as a customer -centric company offers French Translation Services in Delhi.
To learn more or get started, Request A FREE & Instant Quote or give us a call today.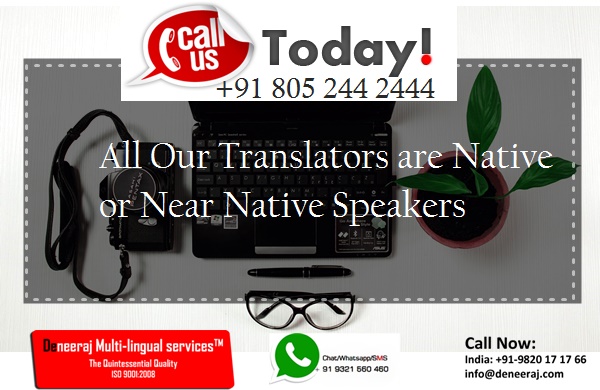 Why Choose DEneeraj Multi- Lingual Services® (DMS)?
A few of the reasons why so many companies choose DEneeraj Multi- Lingual Services®(DMS) for their Arabic Translation & Interpretation services in Surat. At DEneeraj Multi- lingual services®(DMS) we also provide German Translation & Interpretation Services in Hyderabad and Korean Voice Over in Delhi, Chinese Dubbing and  Japanese Website Localization Solutions in Bangalore  with more than 160 languages . When you award your esteemed Translation & Interpretation services, you get exceptional quality control with Competitive costs. We have special Spanish Translation  Services in Delhi, Mumbai, India Rush hours Translation  services 24/7/365 also in  French, Spanish, Arabic, Russian,German, Italian, Portuguese, Korean, Japanese, Hindi, Chinese, Persian, etc with Professional Translation & Interpretation with industry-specific expertise. Our professional Russian Translation& German Interpretation Services in Mumbai operates under stringent translation strategies that need meticulous care to the smallest of details.
Documents
Brochures
Proposals
Presentations
Minutes & Resolutions
Correspondence
Manuals
Statements
Medical Brochures
Leaflets
Transcriptions
All Our Translators are Native or Near Native Speakers
All our English to Arabic Translation & Persian Interpreters services in Pune are proficient enough to execute with exceptional Linguistic value we offer your venerated projects.  No other company can match our exactness,expertise and our enthusiasm to absolute customer satisfaction. DEneeraj Multi-lingual services® (DMS) is the one-stop linguistic solution in Hindi Translation & , Chinese  Interpretation Services in Lucknow for any corporation looking for accurate Translation, Interpretation &Transcription at highly competitive tariffs.
Our Human Translation & Computer Assisted Translation Methodology
Because your esteemed projects need the absolute attention tothe accuracy with cultural understanding and only human translators can achievethe same our professional Korean Translation & Japanese Interpretation Services in Hyderabad we opt a systematic translation methodical with Subject Matter Expertise (SME) which is choosing the right term can be accomplished by human efforts. Our Chinese Interpretation Services in Lucknow with Indian born Chinese interpreters.
Portuguese Translation & Italian Interpretation Services in Kolkata
DEneeraj Multi- lingual services® (DMS) has vast experience in Portuguese Translation Services in Kolkata, undertaking huge Translation, Interpretation,& Transcription projects of many and significant works.
DEneeraj Multi- lingual Services® (DMS) is trusted by Over 100 Companies
Including some of the world's largest and most prominent organization government and non-governments both. Our team of expert translators, writers and interpreters with broad know-how in the most diverse fields. This knowledge guarantees that our clients will get best possible Translation & Interpreation Services
Contact us now for a FREE quote!