Converting an idea into a reality can be a Nerve-wracking experience. Most of the huge ideas and talents remain hidden because we don't have enough inclination, courage, capital, time and/or funds to take an initiative. And for those who take misinformed steps of course with great intention mostly find themselves wasting their valuable time and resources on a dream project that simply goes off track.
DEneeraj Multilingual services® (DMS) offers Writing Services and solutions with detailed notes and above all supportive and friendly feedback on your ideas. The grammatically correct and culturally appropriate writing is the best way to pitch your ideas and your thoughts. An independent yet polished, the out-of-the-world idea needs to be put in woven sentences for the world to comprehend, and cherish. A well-written draft, script, dialogue, and screenplay are like a blueprint of your thoughts.

Scripting by DEneeraj Multilingual services® (DMS) may benefit your revered organization in the following ways:
In addition, we will reply to any follow-up points and questions about our friendly feedback by email We are also happy to talk on the phone or Skype to aspiring writers about their projects and arrange face-to-face meetings.
Grab attention within the first 10 seconds of introduction of an idea
Include possible questions, comments and
Generate a need for your idea, thought & plot
Include get reaction and dry run queries that can get positive response
Incorporate techniques to pitch the script
Enable you to take control and plan your scripting objectives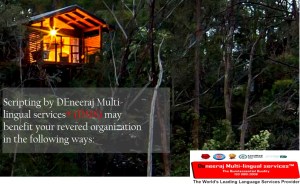 Our writers have several years of experience writing professional Script/Speech we take care of each and every aspect of the scripting you ever need, the story you wish to tell and the characters that are featured. As a master storyteller we know intuitively the significance of a Script And Speech in making a highly winning film, drama, radio show, or a web series and to address the conferences and large gatherings. You will also be entitled to three free revisions on each script you have written by our company
Related Post –  Speech Writing Services
DEneeraj Multilingual Services® (DMS) is trusted by Over 100 Companies
Including some of the world's largest and most prominent organization government and governments both. Our team of expert translators, writers, and interpreters with broad know-how in the most diverse fields. This knowledge guarantees that our clients will get best possible Translation & Globalisation Services
Contact us now for an FREE quote!