3 Simple Steps to Maximize Learning

Book Your Session
We will email you a receipt & a mutually agreed timetable.

Learning Style Assessment
We will identify your preferred learning style and improve your learning curve.

Your Coach will call you for your session.
Learn whenever, wherever!
Bollywood Accent, Dialect, Diction, Vocal Coach, Whisperer & Actor
DEneeraj Multi- lingual services® (DMS) time tested & dependable Accent, Dialect & Diction coaching methods would help you in learning new accents, or to modify your native accent for successful speaking engagements and   engaging performances.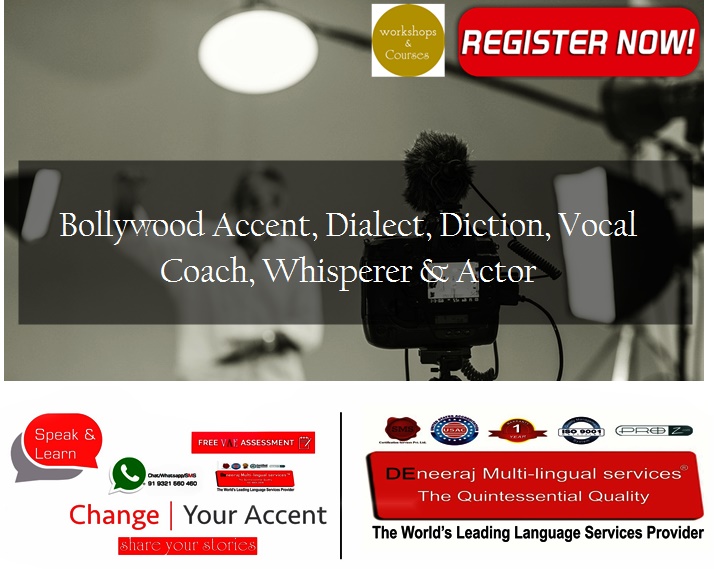 We are available for Accent Training, Dialect & Diction Coaching in person, on-location, and by phone, Skype, Face time or WhatsApp.
Standard American English (SAE)
Boston
New York
British Received Pronunciation
Australian
Kiwis
Irish
Russian
Spanish
French
German
Middle Eastern
…and more!
Don't find the dialect you are looking for? No worries – with prior notice, we can coach you on any dialect you aspire.
WhatsApp/Call + 91 9321 560 460 Schedule NOW a Complimentary Consultation& FREE feedback.
Learn and improve your Communication Skills, US/UK Accent, Soft Skills, Public Speaking, Grammar, Pronunciation, Diction & Voice-Over by Skype or by phone and become more confident and fluent. Take learning sessions at home, from the office or at the breakfast/dinner table at a time to suit you. Choose your block of lessons today: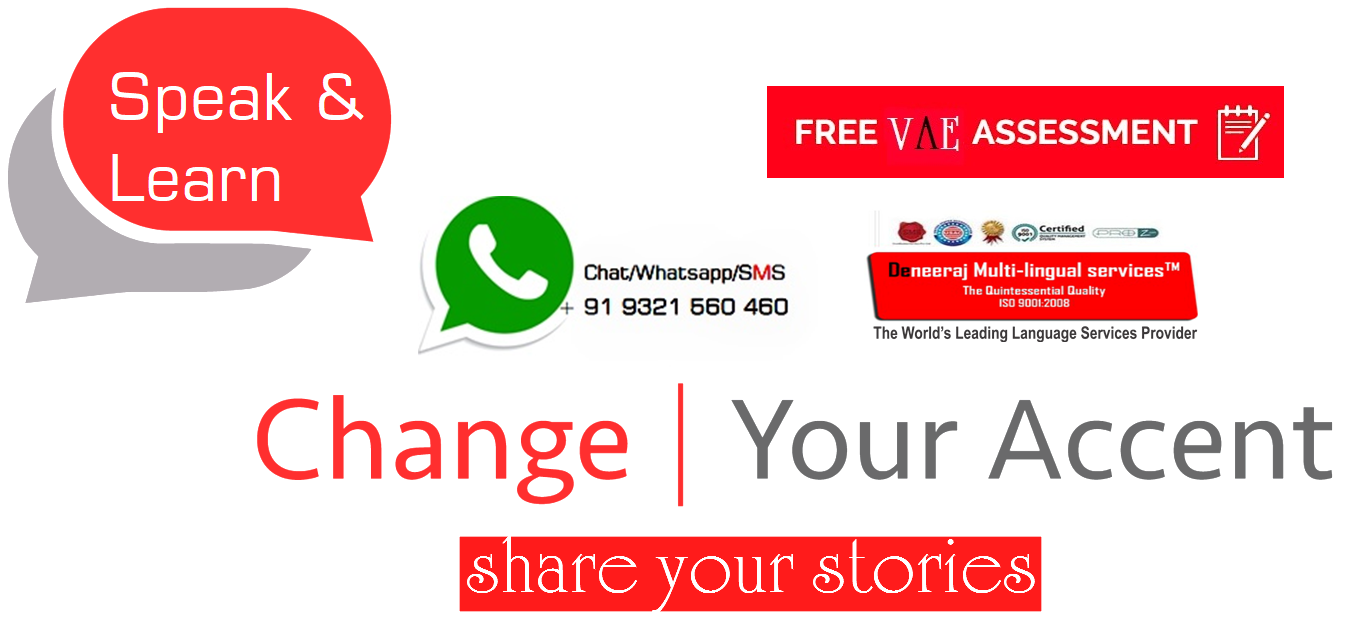 Each Phone/skype session is 45 minutes. Total prices below are for lessons to Skype/Telephone.
Foreign Language 1-1
Enjoy the experience of a lifetime! Learn to speak fluently like a near native speaker in the comfort of your home. Our highly appreciated intensive "One-to-One Telephone & Skype Language Lessons" in Dutch, English, French, German, Italian, Hindi, Sanskrit, Portuguese, Russian, or Spanish. Progress is amazing in the shortest possible time. We have also distance Long term language learning   programmes in Arabic, Chinese, Dutch, English, French, German, Italian, Japanese, Portuguese, Russian, Spanish, etc.
Session Fees:
Each Telephone & Skype session is 40 minutes. Total prices below are for lessons to Skype/Telephone.
Why Choose Us?
We make your learning simple
19+ years of experience
Become part of a worldwide community
Affordable rates
Learn where and when you want
Open to students 10-70 years old
Access to support, helpful links and on-line resources
---
find your Customized course
We offer a variety of language learning services and solutions which enable you to find the best way to learn your target language, accent, public speaking style, etc.
---
The advantages of Breakthrough
Skype, FaceTime, Google Hangouts and phone sessions are practical solutions if you have a hectic life – or if for other reasons find it difficult to attend face-to-face course.
Contact Us?
To Schedule a Training Session
English Language Studies
Call us: +91- 9820171766 (from abroad)
Call+91- 8948034394 (India)
Foreign Languages
call: + 91 9321 560 460