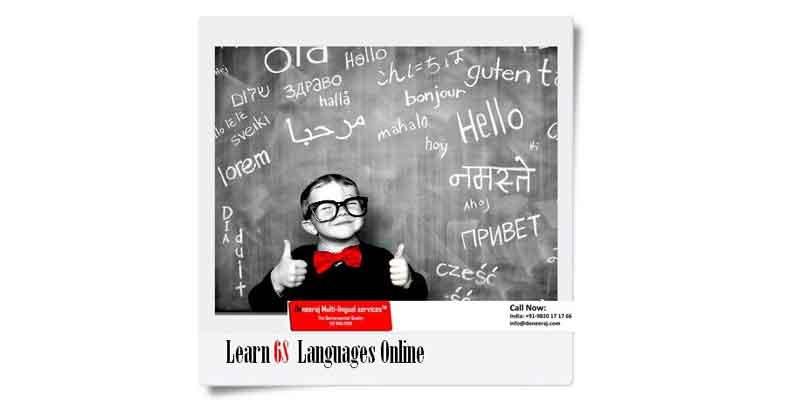 World of Languages
Online Foreign Language Courses
Professional One-on-One Tutoring, Online and inexpensive!
Welcome to Deneeraj Multi-lingual services™ .
Languages such as Chinese courses in Mumbai, Mandarin courses in juhu Mumbai, Spanish customized courses in andheri, Arabic courses in bandra, Bengali classes in andheri, specilised Hindi courses for bollybood actors, actress and expats in lokhandwala andheri west, remarkable Russian courses by native Russians at heart of Mumbai in andheri, Japanese courses just on time near andheri station, challenging Chinese, Wu courses are also available on demand, kindly learn Korean at khar, fabulous rapid French courses, terrific Turkish courses by native trainer at andheri, verity of Vietnamese courses available online for business trips, discover telugu language greatness through our courses and classes in andheri, yet another variation of Chinese call Chinese, Yue(Cantonese) leran through us by native but born and brought in city of joy Kolkata, amachi Marathi learn and discover Maharashtra, tamil one of the oldest languge in the world you can learn through are tamilian teachers from Mumbai, if you speak already Spanish learning Italian would be a cake walk so just learn Italian and relish Italian cuisine at andheri, the language of nawabs and poets Urdu learn and create sophistication in your oratory at bandra,
Online training has become one of the more effective options for everyone around the world to get the one-on-one help they need to succeed:
Contact Us 09820171766 or deneeraj@ live.com
Online Training in Polish, Ukrainian, Persian, Malayalam courses and classes in mumbai, Hakka classes, Kannada coaching at juhu, Oriya, create panache of Panjabi courses, Romanian courses online, learn the hilarious flavor of Bhojpuri courses offerd by us in its all dialectical forms,
Fully Automated Computer-Based Training Program
Online training lets you study 24/7, and you can pick up the foreign languages, accent and grammar quickly and easily. This is particularly useful if you are studying for exams, emigration, GRE, GMAT, TOEFL, SAT, IELTS, TSE, IB English ETC or if you have a presentation with an upcoming deadline. All you need is standard equipment – a computer with microphone capabilities.