Ameliorate your knowing and confidence on this intensive only 10 session course in Public Speaking and Communication Skills. We cover all the significant aspects of Public Speaking and Communication such as Structure, voice production, and other allegorical techniques. With the right mindset and you can continue improving in public speaking and presentation. Our courses, sessions are specially designed for the Students, professionals, managers, and CEOs.
Online Creative Writing Course
We are specialized in helping professionals, managers, and aspiring writers improve their writing skills with overall communications across all situations and skill levels.
At DEneeraj Multilingual services® (DMS we are passionate about supporting people to feel confident and connected when they give the talk or write an essay. We also work with professionals and organizations to develop effective internal and external business communications resulting in more efficient managers and happier customers.
A series of inspiring sessions which illuminate all aspects of Public Speaking and Communication Skills. Through frank and friendly discussion, exercises, and example, these courses will teach techniques, give you insights into your creative thinking, and encourage you to achieve you're of Public Speaking and Communication goals.
Public Speaking Training over the Phone or on Skype
The words New Mindset written on sticky colored paper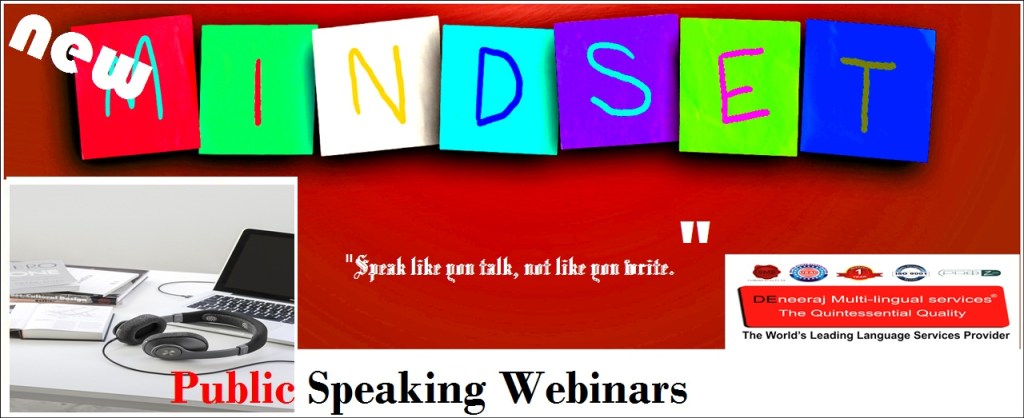 Telephone Training
We are Passionate about transformational talks. We don't just coach groundbreaking methods; we ensure you experience an eternal shift in your Public Speaking skills. Our methods are fun, creative and build on your existing and hidden strengths and potential. Improve Your Public Speaking and Communication Skills with DEneeraj Multilingual services® (DMS) techniques. And we must add here that you and Your Front-desk executives have to have the Very Best Vocal Training.
Related Post –  Teaching and Translation Company
Voice and Speech coaching
There are many reasons why you wish to work on your voice and speech – to improve its quality, range, deepness, vocal excellence, or address a lack of presence or insufficient projection. At DEneeraj Multilingual services® (DMS), we're big fan of creative ways to address Public Speaking that's Engaging, Influential, & Enjoyable. So that means it's perfectly all right to compromise with the occasional unventilated grammatical rules (and many times it's even preferable). But, on the contrary, making some Conversational English mistakes just makes you look awful, and blunts your effective communication.
Confident Presentation Skills
DEneeraj Multilingual Services® (DMS) is trusted by Over 100 Companies
Our training programs coach you to be a confident, clear and compelling communicator, enabling you to give better speeches and presentations, communicate new ideas inspiring presence. Our Public Speaking and Communication online and customised courses are perfect for everyone including students, working professionals, top executives, teams and those across all fields.
Contact us now for an FREE Consultation and Feedback!
Call us on 9820 17 17 66 or a free telephone consultation to discuss Telephone Training for you, your colleagues or team, or email info@deneeraj.com to discover more about how DMS can help you to achieve your Public Speaking and Communication objectives.